Serving Therapists for over 35 years...
Game Changer!
Leverage the power of ChatGPT's AI for your practice.
TurboPT has launched a revolutionary documentation system powered by ChatGPT, the latest in voice recognition AI technology. Our ChatGPT-powered system uses advanced natural language processing algorithms to analyze and interpret patient data, generating comprehensive reports in real-time. With customizable templates and fields, the system is fully scalable and adaptable to the needs of practices of any size.
AI Integration at the forefront.

Gone are the days of laborious documentation and wasted hours spent dictating and transcribing patient notes. TurboPT's ChatGPT-powered medical documentation system makes documentation easy, freeing up more time for healthcare providers to focus on their patients. The system seamlessly integrates into existing workflows and can be easily managed with just a few clicks.

TurboPT and ChatGPT - Your winning combination.

The ChatGPT-powered system has advanced learning capabilities, getting smarter with every interaction, and improving the accuracy and efficiency of the documentation process. HIPAA-compliant and fully secure, TurboPT's documentation system is a game-changer for healthcare providers. Interested individuals can schedule a demo to experience the power of AI in healthcare and join the future of medical documentation today.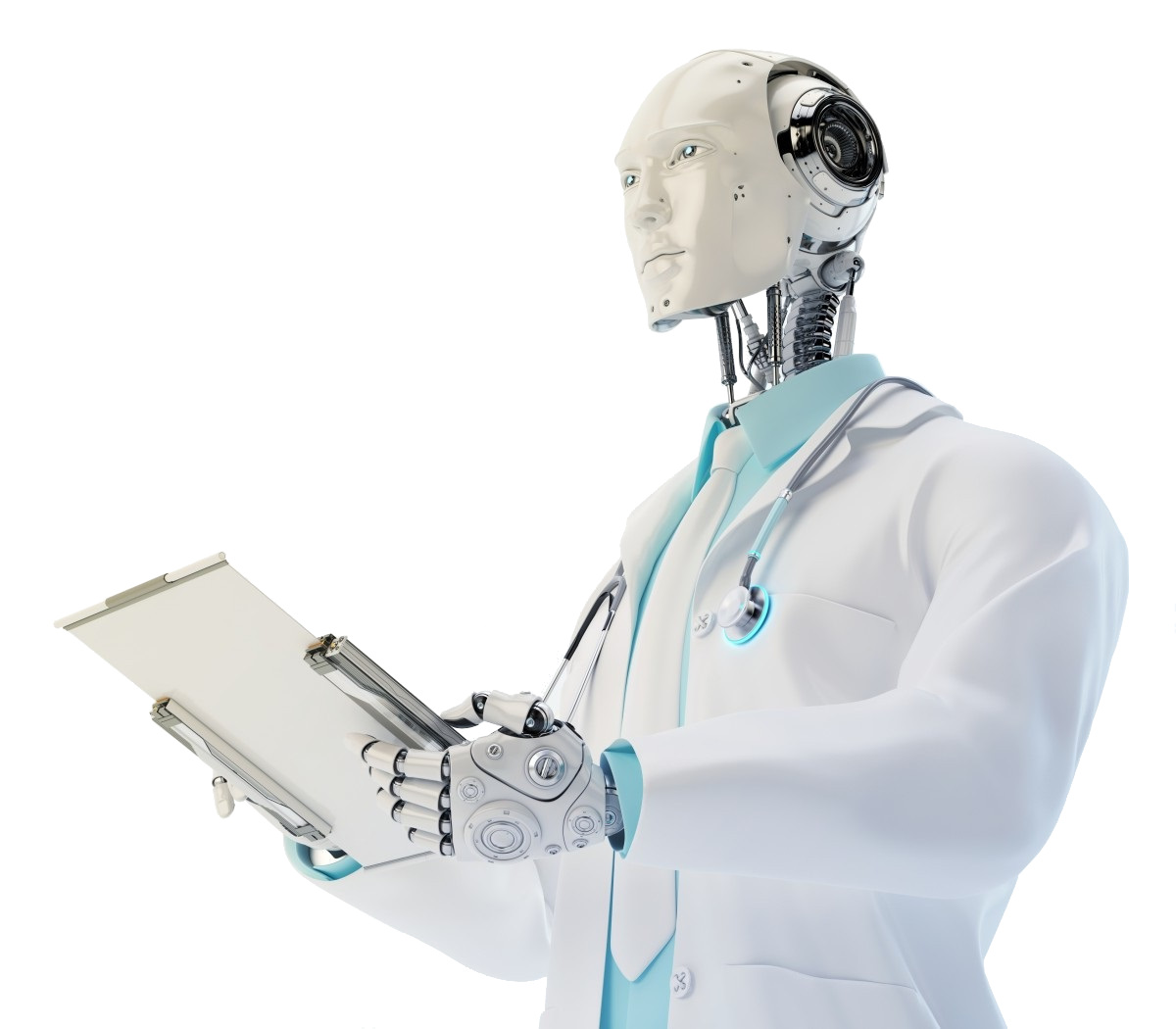 Rethink Your EMR Solution
Improve productivity, profits and patient care.
As the industry's fastest, most intuitive and most adaptable EMR, TurboPT Documentation helps PTs, OTs, and SLPs see more patients, streamline operations and easily meet the changing requirements of healthcare reform.
The next generation EMR.

The next generation EMR built for compliance, speed, and simplicity. Bring on ICD-10!

The complete clinical solution.

Quickly schedule appointments, document clinical encounters, and drive patient engagement in one fast, intuitive solution.

Rapid documentation capabilities.

Easily create care plans with scalable templates, innovative flow sheets, and reusable exercise plans.

Configurable templates

Configurable specialty-specific documentation templates and the ability to build your own from scratch.

Seamless integration.

Seamless integration with practice management enabling you to easily select procedure codes and bill for your clinical encounters all from one platform, all from one vendor.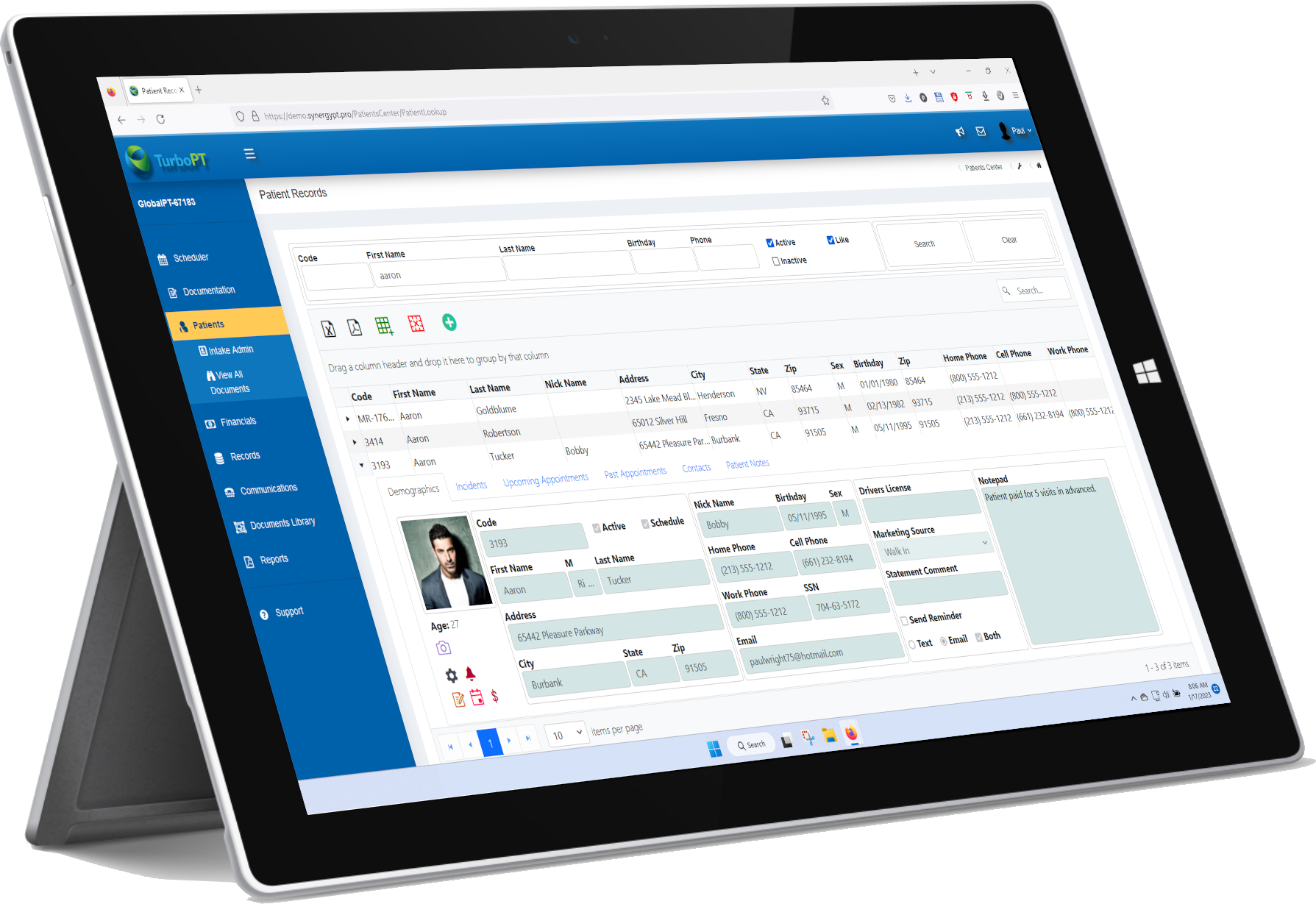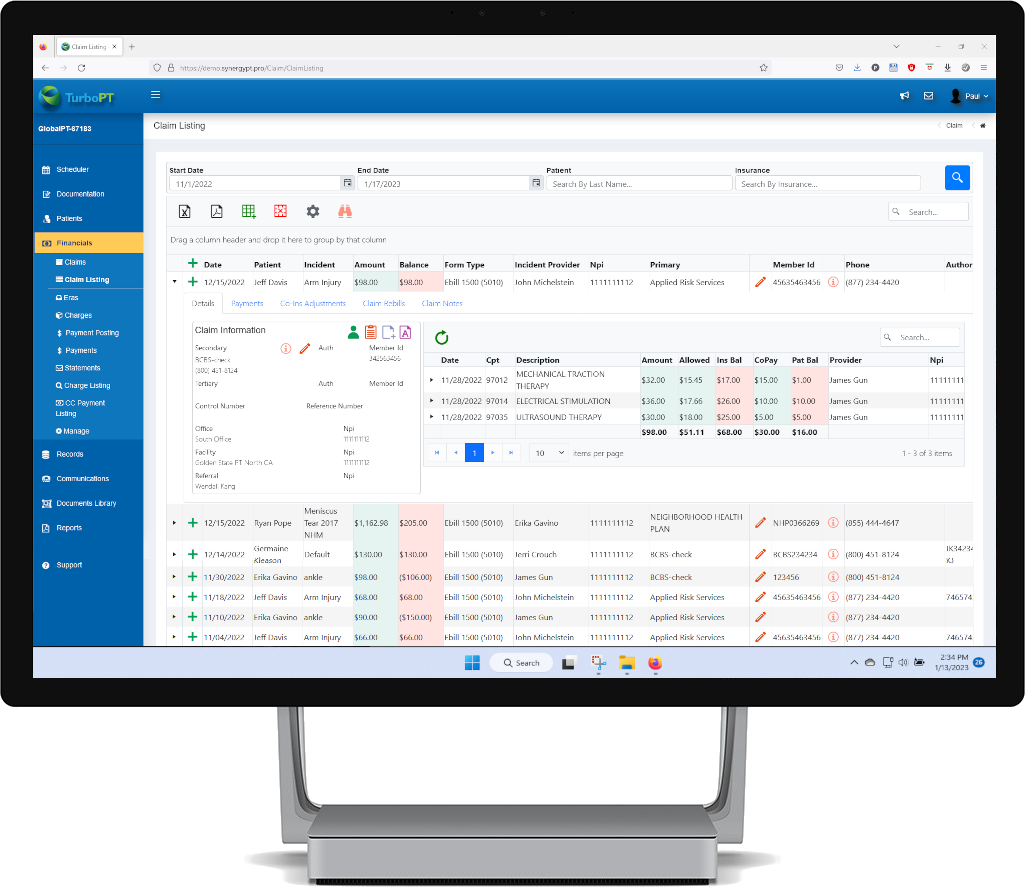 Better Billing by Design
Boost financial results without having to cobble together multiple systems or hire rocket scientists to get the job done. As the industry's fastest and most intuitive billing solution. TurboPT takes the guesswork out of getting paid so your practice runs more smoothly. Stop fighting denials and get your claims right the first time.
Streamlined electronic billing.
Billing rules built-in
Bill insurance directly
Clearinghouse integration.
TurboPT is ICD-10 ready
Project your accounts receivable
Practice Management Control

Track, manage and optimize your practice
Our easy-to-use practice management software optimizes your workflow by automating the day-to-day tasks that can slow an office manager down. TurboPT practice management gives you unparalleled command and control delivering robust, real-time analytics through customizable reports to ensure you know how your business is performing.
Audit System, Charges and Payment Reconciliation
Monitor the entire process of revenue generation, from the service encounter to the receipt of payment. Enter charges, post payments, and reconcile billing data and payments.
Real-Time Reporting
Get robust and customizable operational, financial, and clinical reports at your fingertips all in real-time. It's your business data, delivered the way you want it.
Insightful Analytics
Get powerful insights in your practice and make informed decisions through interpret charts and graphs.
Patient Management
Get a complete, well-organized picture of your patients all in on place. Update patient demographic, insurance, and account histories - even attach files.
Productivity Tracking
Track staff productivity levels to ensure your employees are maximizing revenue-generating services to your clients.
Multi-Tiered User-Level Access
Control sensitive practice data with role-based user level access.
Do More With TurboPT
As the industry's fastest, most intuitive and most adaptable EMR, TurboPT Documentation helps PTs, OTs, and SLPs see more patients, streamline operations and easily meet the changing requirements of health-care reform. Additional service include:
Clearing House Integration
Create 5010 ANSI compliant claim files that you can upload to your desired clearing house. Import 835 EOB's directly into the TurboPT financial system. You can also choose to sign up for the TurboPT clearing house service.
Automated Patient Reminders
TurboPT also offers add-ons such as automated patient reminders via email and text. Remind patients of their upcoming appointments, so you can minimize no-shows and maximize revenue.
Innovative Web Portal
Our next generation web portal allows you to view and manage your schedules, send secure messages and manage your automated messaging from any device connected to the Internet.
TurboPT also integrates with:

---
We integrate with WestFax.com, a HIPAA compliant secure cloud fax service provider, to offer our TurboPT customers the ability to easily send and receive faxes within the TurboPT platform. By utilizing WestFax's service, you can keep your existing fax number and use it to send and receive faxes from multiple devices, including computers, phones, and tablets. Furthermore, WestFax's API integrates seamlessly with TurboPT, providing an easy and efficient way to manage fax communications within our platform.
---
We also integrate with CardConnect, a powerful PCI-compliant credit card processing system that allows our customers to take credit card payments seamlessly within our platform. This integration enables us to accept card payments on behalf of our customers and apply those payments directly to any patient-related charges, such as prepayments, copayments, or purchases. Aside from the services provided per our integration, CardConnect also offers a wide range of payment acceptance options. By integrating in this way, this allows us to focus on providing a smooth experience for our customers while relying on CardConnect's expertise in payments.
We partner with:
---
Physitrack is a platform that provides exercise prescription and rehabilitation software for healthcare professionals. It offers a range of tools to create and deliver personalized exercise programs, track patient progress, and communicate with patients remotely. Physitrack can be used by physiotherapists, chiropractors, occupational therapists, and other healthcare practitioners to enhance patient care and improve outcomes. The platform includes a library of exercises, videos, and educational content that can be customized to meet individual patient needs. Additionally, Physitrack allows for easy communication and feedback between healthcare providers and their patients, making it a convenient solution for Telehealth and remote theraputic monitoring services.
Partner with TurboPT
TurboPT partners with industry leaders to offer a wide range of integrations to help improve efficiencies, reduce operating costs and deliver a more satisfying customer experience.
TurboPT does what it takes to make a difference for every customer. We believe that being great developers of rehabilitation therapy-specific software requires more than just the best technologies, but the best support and service too.
Want to know more?
Enter your contact details and one of our account specialists will be in touch with you within 24 hours.
TurboPT has been featured in: